Woman is the one who brings us to life, no nation can succeed unless the women are side by side. It is a crime against humanity that our women are being RAPED. Come on raise up your voice not to show that you can shout but for those who are without voice can hear, because we can't succeed when half of us are held back because of the fear. "Blindness separates people from things; deafness separates people from people"
PLEASE RAISE UP YOUR VOICE and spread the message "Touching a girl without her consent doesn't make you a man, it makes you a COWARD".
Overview
This unique product is a safety taser/baton specially for women and comes under the category of car safety & security . Zoook Moto69 is a rechargeable stick solely for the defense purpose of women who might need it when they walk/drive alone. With the increased numbers of irrelevant activity from some mischievous elements of our society, this product becomes a must-have.

Design
This product is designed elegantly to fit in your security & safety needs. It has a powerful 9000V laser plus flash light stun gun. The sound is so fierce that it will fend off any attacker just with a push button. It is made up of superb aluminum material which is known for its durability.

Features
Zoook Moto69 comes from the house of Zook Moto69 which is a well-known brand. This high power item has a built in rechargeable battery, long distance LED flash light and a separate ON/OFF button at bottom for spark in spark mode flash doesn't work. It comes with an exclusive 1 year warranty.
About Zoook
Zoook is France based consumer electronics manufacturing company with specialisation in high-end product designing, manufacturing of the product and marketing of the same. The word Zoook is a transformation of the popular Caribbean word Zouk, meaning festival.
The Zoook Moto69 stun gun features a full aluminum non-slip grip body to ensure comfortable and safe grip when using it as a household flashlight. The front of the device boasts intimidating double prongs on each side, enabling the stun gun to fire two simultaneous sparks loud enough to scare an assailant by the sound alone. These dual sparks can be seen, heard and surely felt by any unsuspecting criminals. The Zoook Moto69 stun gun comes with a safety case and safety on/off switch so the flashlight stun gun is safe from accidental discharge and kept deactivated from children. Included is a convenient charging cord, plugging to the back of the stun gun whenever required and a premium quality nylon holster.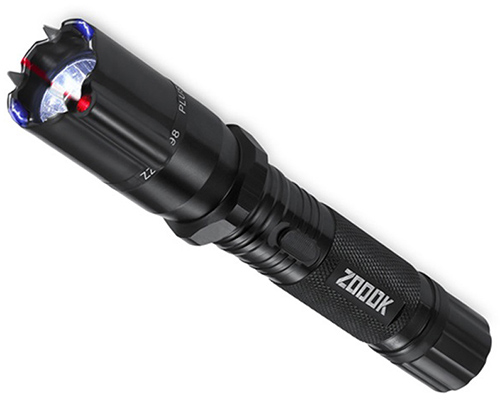 The Zoook Moto69 stun gun is a cognitive self defense stun gun designed to resemble a normal flashlight, it emits a staggering electric shock capable to incapacitate an assailant. In a recent 2012 study conducted by the FCC, more than 40% of robberies involve smart phones and cell phones. In some areas, that rate is higher than 50%. The next time an attacker demands your smart phone, give them a surprise that will truly daze them- give them the stun gun.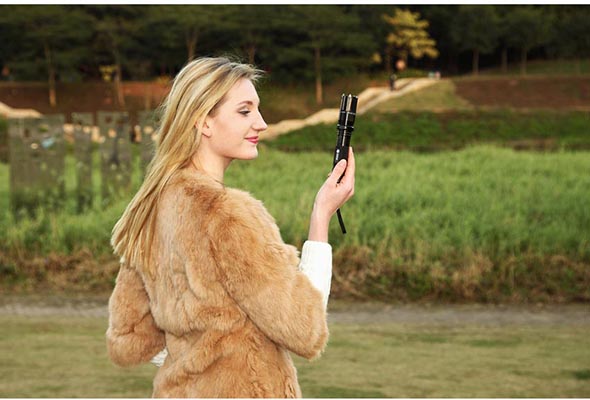 Stun guns have evolved over the past decade to become more effective, safer to use, and more discreet. It is now the case that a stun gun is capable of generating 200,000 volts and up, which is enough to floor a man and leave him disabled for approximately 20 to 30 minutes. The gun works through being pressed against the attackers body, before releasing an electronic charge that is high in voltage, and low in amps, meaning that it is effective at disabling the attacker while reducing the chance of causing damage. When an assailant comes in contact with the charge, they will go through a few seconds of excruciating pain, their muscles will spasm, their blood sugar level will become depleted, and the victim should have sufficient time to escape and contact emergency services.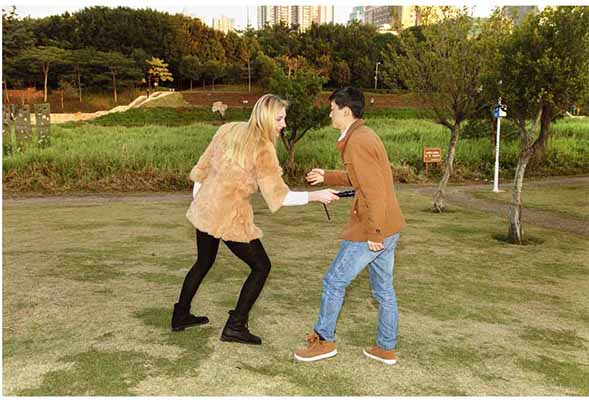 In order to understand the advantage it is firstly necessary to gain an appreciation of how the device works - and the misconceptions that surround it. Stun guns will not cause long term damage to the attacker, even if they have a heart condition, because the high voltage is multiplied by a low current rendering the charge less deadly. Unlike an electrical chair, which has the purpose of killing a person, a stun gun is a product that is developed as a means of disabling, rather than causing damage to, the attacker. When compared to other personal safety equipment and apparatus, it is often considered to be one of the most attacker-friendly options, despite the abrupt and certain nature by which it will disable a person. Another common misconception surrounds whether or not the victim can get a shock through touching the attacker. The answer to this is no, with the reason being that the attackers body will absorb the charge.
An advantage of stun guns is that they now come in many shapes in forms, making them easier to use quickly and effectively. Many new shapes are more discreet and also more practical to carry. Various types of stun guns include the stun gun flashlight, the stun baton, the stun pen, the expandable baton and other latest variations such as the rechargeable stun guns like the zoook moto69 . A stun gun can be particularly effective when a victim has already been grasped by the attacker and the stun gun is available for use. Stun guns also require less accuracy than other devices and are often enough of a threat to deter an attacker from actually attacking in many cases.
There are many advantages of using a stun gun as your personal security instrument of choice.